Starter Guide
Be sure to Read our Rules here, and join our Discord!
All new players should use these commands immediately when starting to ensure you are setting yourself up for success. By using the below commands, you will get free items, money, drop rate, donor rank and best of all it only takes a quick second to do all of them! Commands to use when starting
(::tutorial) – At the end of this, you will be able to choose an icon, select the DR icon or damage icon of your desired style!
(::YouTube) or (::yt) - make sure you leave a 40 char comment with your ign: puturnamehere at the top of the msg (edited)
(::vote) - vote bags give you an item + 20 mins of extra xp
(::toplist) - free donor rank!
(::bonus) - free 10% DR bonus
(::starter) - few different choices here, this is where you can get free bones for prayer(use on alter at home)!
Helpful Hints
use the commands (::guide) or (::guide) for extra options!
Some other useful Commands:(::chests)(::upgrade)(::train)(::wiki)(::donate)(::afk)(::items)(::yt)
Right click money pouch, click open price checker (this is called the pawn shop where you can buy the starter gear u found in ::items that u want.

Well of GoodWill
To fill the well, it costs a COLLECTIVE 5,000,000 (5-1m coins or 5,000-1k coins) which can be contributed by any player online in any amount over 1k coin.
The bonus lasts for 100 minutes, offers 30% Bonus EXP, 50% Bonus Drop Rate/Double Drop Rate, 2x Boss Drops + Raid Drops


Daily Bonuses
Monday: 2x magic damage

Tuesday: 2x melee damage

Wednesday: 2x Slayer Points

Thursday: 2x range damage

Friday: NO Requirements day

Saturday, Sunday: Infinite Prayer + 2x EXP


For more information on Ironman and Hardcore ironman see here
Only continue onto the further portion of the guide once you have completed the above steps (commands) as they are INTEGRAL
Starter info

Only continue onto the further portion of the guide once you have completed these steps as they are INTEGRAL – ALL players, new and returning should complete (::tutorial) to refresh on the game as we have content releasing every 2 weeks there is a lot to keep up on!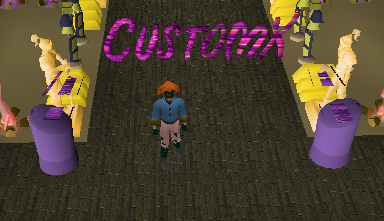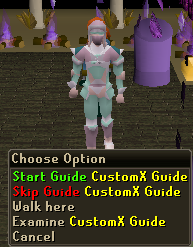 At the end of the (::tutorial), you will want to equip the entire Immortal Set you've gotten, including the cape as its better than the best donor cape you can get from the owner boxes.
Make sure to use your Collector necklace to avoid having to loot as much!
Goto (::chests) or Left control + C – and open your 5 FREE Expert Keys and maybe get BOSS LOOT!
If you ever find gear that looks crazy and weird. But wonder that its good or not? Look at (::items) to compare and sort between styles, bonuses of all types of gear on Custom X!
(::items) shows every item in game and accurately shows their bonuses according to what your sorting for in the top right

Every upgrade you earn can be seen as a permanent increase as you will never replace it until you find something better
Where you should be now:
- Full immortal armor
– base donor rank
– Expert keys used (hope for eternal items)
– Owner boxes used
– your gear setup should look similar to this (I got a unified Phat from the expert chest which is 15% all damage, you will likely have immortal)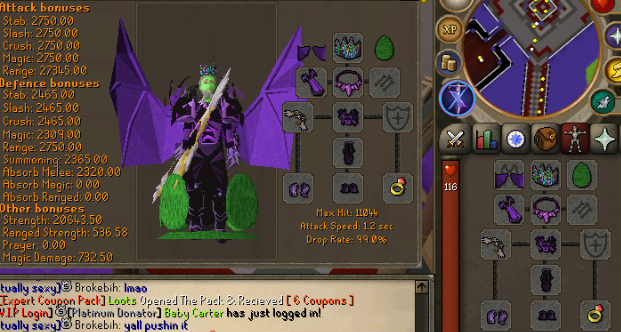 Be sure to use one of the "limited" weapons you start with, either the bow, maul or staff will be better than the immortal weapon we are given and will serve as our main weapon until eternals.

Keep in mind you can sell the items you get from the expert chest at the pawn shop by following the northwest corridor.

You can also sell your vote bags you get for 1m bags and try to buy an eternal bow for a quick and huge starting upgrade to your max hit and DPS (Damage Per Second)


Side Note

We want to make achieving donator ranks much more obtainable in-game. Rank scrolls will allow you to accumulate Rank Total amount, so that you can earn every rank upto Platinum Donator in-game totally F2P (without having to actually donate)! Obviously it will take time to achieve the higher ranks. These scrolls will be obtainable several ways in-game! There are 4 different Rank Amount Scrolls (5, 10, 25, 50) which are both tradeable and sellable!
Damage Zone
Our main focus will be on increasing Max hit and Drop rate.
Damage Zone
Each mob, Mele, Range and Mage will each drop their respective damage boosting ring.
Once you acquire all of them, they can be upgraded into the 2x all damage ring
This zone, while also increasing our damage will also provide us with our first money making method. Each of these mobs can drop Lucky Rings of Wealth, the same ones you should be wearing.
Lucky Rings of Wealth can be sold at the pawn shop for 225k 1b bags, we need 165m to buy an eternal sword, and 336m to buy an eternal bow, you can save up for the bow but the melee weapon is more than sufficient.
Pawn Shop is Northwest of:: home teleport
You should have around 75-100m 1b bags already from selling the loot from your expert keys. So you shouldn't have to grind too many and remember if you claimed your FREE donor rank, you have access to ::bank / Left Control + B to bank ANYWHERE! No need to disrupt your progress for tedious banking.
Getting an eternal weapon will raise our max hit high enough to start almost one shotting most minigame and zone mobs which means our grinds just got WAY faster!
Damage Per Second can only help us so far, we also need to increase your Drop Rate to ensure we are optimizing how many kills/hour we can get.

Perk Zone
Perk Zone
Starting out
-Killing Perk Warriors will give tokens
-2500 tokens can be turned in to specific perks at the shop
-Stay at warriors until 1000KC then move onto 2nd area of minigame, Champions.
For more information see Perk Zone
Champions
-Drop random complete perks
-Can be duplicates of already acquired perks
-More efficient to farm champions over tokens


You can check what perks you still need with ::perks – Make sure you stay here until you at least have the following perks as they are more important
Collector perk – don't have to wear collector necklace anymore
Infinite Overload – permanent 190 combat stat boost – HUGE dps increase
Infinite Prayer – obviously…
1.5x xp perk (needed for end game slayer farming and account progression)
10% DR – always need maximum DR
Drop Rate
Drop rate allows you to farm bosses, mobs, gear and items more efficiently. Many bosses have high drop rates of 1/10000 by progressing through the game and acquiring upgrades you can achieve over 1000% drop rate boost!
This means, if a boss has a drop of 1/10,000, if you have 1000% drop rate (10x your base of 1) this means we are hunting a 1/1,000 drop instead of 1/10,000 – THIS SAVES US SO MUCH TIME
End game bosses will have Millions of HP, Possible mechanics, Adds or smaller enemies to fight.
Drop Rate can only help us so far, we also need to increase your Damage Per Second to ensure we are optimizing how many kills/hour we can get.


The reason we started by getting an eternal weapon
.... is because we can UPGRADE it into the BEST IN SLOT OVERPOWER WEAPON…eventually. We can do this due to Custom X's unique progression system involving Attachments… progression (varies with what style you choose) will be as follows start to finish



| Weapon Type | Weapon Images | upgrade material | where to obtain upgrade mats |
| --- | --- | --- | --- |
| Limited Weapons | None | None | None |
| Eternal Weapons | | | |
| Drakon Weapons | | | Vote goodie bags, Drakon Raids, corrupt raid chests |
| Halloween Weapons | | | Infected Chests, Corrupt Raids, Mossy Chest, Halloween boxes, corrupt boxes |
| Festive Weapons | | | Christmas Boxes, T50-T100 slayer, Oblivion Raid Chests, Vote bags, Ultimate boxes |
| Lovely Weapons | | | Ultimate Boxes, Valentine Heart Boxes, |
| Oblivion Weapons | | | Oblivion raid Chest |
UPGRADING Your WEAPON

By choosing your eternal weapon carefully, you can feasibly upgrade it to the best weapon of the game assuming you get it all the way to oblivion.
The upgrade machine is located at ::chests or Left Control + C Each time you want to upgrade your weapon you will need a specific number of attachments and the required lower tier weapon to upgrade.


Eternal Upgrading

This is upgraded just by using a Drakon attachment
in your inventory on the eternal weapon


while it is also in your bag. This will upgrade it to the Drakon variant of your weapon. each Drakon Attachment is around ~500k-1m


Drakon Upgrades

This will require you to have the Drakon weapon of your choice ready to upgrade with 2 Halloween Attachments (Each Halloween Attachment is ~1-4m)


Festive Upgrades

This will require you to have the Halloween Weapon of your choice ready to upgrade with (each Christmas Attachment is around 4-7M)
Mele: 4 Attachments
Ranged Main hand: 4 Attachments
Ranged Off Hand: 4 Attachments
Icy/Festive Scythe: 4 attachments


Lovely upgrades

This tier is skipped by Melee and Ranged users, Magic users have to still do this if they wish to upgrade further.
Lovely Scythe requires 10 Upgrade Hearts to create.


Oblivion Upgrades

These are ENDGAME Best In Game/Slot WEAPONS and are meant to be difficult and expensive to obtain. (each Oblivion Attachment is around ~15-25M)
All oblivion upgrades require 4 Oblivion Attachments
MID Game
Once you have completed the Guide and Zones depicted above, you are well on your way into the game and a solidified MID GAME PLAYER!

Congratulations! At this point in the game, you should have at least…


Halloween Weapon of your choice
Founders / Founders (e)
As many owner items as possible
Boots (enchantable)(DR)
Gloves (enchantable)(DR)
Capes (non tradable but used in upgrading)
Icon (DR)
Pet (DR and Damage)
Adequate gear setup for respective style
At least 200% drop rate, ideally, as much as possible
At least 1 Prestige in Slayer
Time!
You setup should look similar to this at this point
That is a lot! But we are just scratching the surface of what Custom X has to offer both in terms of power and difficulty…


This section is going to cover BOSS PROGRESSION!

Something to be aware of is you CANNOT do end game bosses just because you have the gear or items etc. They are locked behind a sequential boss progression system that requires either Items/drops from certain bosses and/or a specific amount of kills of a boss or raid.

At this stage of the game, you can safely ignore all boss teleports before Enchanted Demon as that content is only used for Slayer and slayer tasks ignore killcount/boss requirements meaning its free to skip progressing through, however you will still use those bosses primarily to train slayer to Tier 5, more on that later



Enchanted Demon

requires 50 Medium Drakon's Raids completions
(Link to drakons raid guide **to come**)

This boss drops enchanted attachments which allow you to upgrade your founder armor to be even better
Key drops we hope for: Enchanted Attachments, Owner Boxes, Exclusive Boxes
250 Enchanted Demon kills are required to progress to the next boss.
I would recommend you come back to get more enchanted attachments if needed.



THE OVERLORD

We will need to kill the Overlord 250 times to progress to the next boss…

Key items we hope for: Overlord Skull (this is required to access the hardest boss in the game, do not leave until you get this or buy one for 8-12m)




Furious Falcon

We will need 250 Boss kills to progress to the next area
Key items we hope for: Any of the quivers, these can be used, sold or combined together to form the Ultimate Quiver granting all of their effects.
Stay here until you can afford a ultimate quiver, or collect them all to form one yourself!
Perk paradise
(see Perk Paradise for full guide.


This minigame is by far the easiest to access and complete. The main requirement being money, which will require you to play the game and save up because it is expensive, but it is VERY worthwhile.

Each area has their own gathering tool you can pick up in case you forget to bring your own.
Each material has its own "gimmick" when gathering to avoid bots and total afk.
Fishing is slower gather rate but otherwise completely afk
Woodcutting trees will be chopped as normal trees with speedy spawns
Mining stones will fill your bag with gems, they can be dropped without canceling mining.
Monks must be killed but respawn quickly, BRING UR BEST DROP RATE GEAR




General
Buy tokens from npc at Perk Paradise teleport for K coins/M

These tokens degrade 20 every 2 minutes

Mostly afk

4 unique materials to collect to obtain perks


Materials Needed Per Perk
500 Ink Bottle (obtained from fishing in Perk Paradise)

500 Scribe Stick (obtained from woodcutting in Perk Paradise)

2500 Stones ( obtained from mining in Perk Paradise)

1 Blank Tablet (dropped by monks in Perk paradise)


Once you have all of these items in your inventory, go to the Northeastern corner and pick up a hammer, then click on the anvil to transcribe. Once you've done this, click the portal in the middle of the minigame to leave and right click the minigame npc and select  "Transcribe Tablet" goodluck!




Perks from Perk Paradise Include…

2x Drakon raid loot from chests
2x Corrupt raid loot from chests
2x Oblivion raid loot from chests
2x Experience
2x Treasure Island Loot
2x Vote Points
Clue Farm (great money maker)

Slayer Start
Slayer Start info

While slayer is an integral and very key part of Custom X, we recommend starting some minigames to increase your max hit and speed up everything else you will do.
Slayer will play a major part in your time on Custom X There is a semi-guide here where you can see certain bonuses like getting 140% free drop rate from prestige's, getting access to end game money making, gear, consumables, and content. Requiring an eventual 250 Prestiges. which may look like a lot, but with the correct steps you too will be a slayer master like Chica!

XP modifiers

1.5x XP perk – Perk Zone minigame
2x XP perk – Perk Paradise minigame
2x XP ring – Slayer Points
2x XP Quiver – Ferocious
2x XP potion – crafted from t250 slayer serpents or purchased from players
Well – make sure you ask in CC for the well to be activated, it offers 30% bonus XP – costs 5m coins to activate, you can see if it is active in the left tab of your quest menu.
Weekend – 2x XP bonus on ALL weekends starting at 11PM PST, 3AM EST, 8AM GMT on Saturdays depending on your time zone

When you look at all the bonuses, it's not so bad! Slayer will be MUCH faster if you acquire as many of these experience modifiers as possible before going for higher end slayer goals like tier 250 prestige.

Starting slayer can be accessed by clicking on the slayer skill, selecting a slayer master, then teleporting to them to receive a task.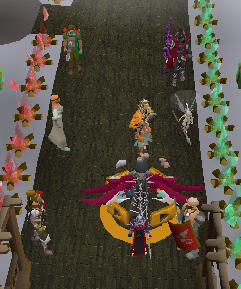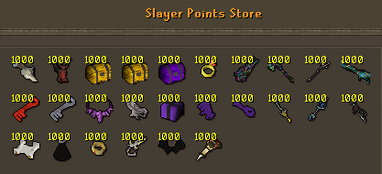 While slaying, you will obtain randomized crate drops such as Cash Crates, Slayer Crates, and Reward Crates! These crates contain various amounts of cash, weapons, armor and other useful gear to help you progress!

The higher your slayer TIER, the more likely these crates are to drop while slaying.

You can advance your slayer tier by MAXING the skill and then right clicking it in your Skill Tab and click the Prestige Option!

Continue to progress and use higher tier slayer monsters as you train the skill.

You will naturally accumulate more gear from the monsters, point shop, or crate drops!

Getting to Tier 5 Slayer…
For your first slayer prestige, which will be, by far your slowest, use the respective slayer masters you unlock.
Make sure you get as many of the XP Modifiers as possible before starting slayer to ensure you are being as optimal as possible.
-        1.5x XP perk – Perk Zone minigame
-        2x XP perk – Perk Paradise minigame
-        2x XP ring – Slayer Points
-        2x XP Quiver – Ferocious Falcon (Noble Quiver if you can afford it)
-        2x XP potion – crafted from t250 slayer serpents or purchased from players
Why are we even doing this?
Every few slayer tiers you will get a permanent, additive Drop Rate boost!
Tier 1 Slayer Rewards 5% DR
Tier 5 Slayer Rewards 10% DR
Tier 10 Slayer Rewards 15% DR
Tier 25 Slayer Rewards 25% DR
Tier 50 Slayer Rewards 35% DR
Tier 100 Slayer Rewards 50% DR
All of these bonuses stack, meaning we get 140% drop rate if we reach tier 100 Slayer!
While there is A LOT more slayer content AFTER prestige 100, we will be primarily focusing on reaching tier 100 slayer as it will mark the end of your time as a MID GAME PLAYER!!!!
The level 92 Slayer master Sumona will be your best XP/hour tasks
We need 150 slayer to prestige the first time
This equates to a little over 2 billion XP per Prestige
To optimally get to tier 5 slayer…
Save up points after your 1st prestige to buy a 2x xp ring from the slayer rewards shop
Save up points after you 1st prestige to buy a Jungle slayer teleport (Tier 5 slayer)
The reason we want to get the 2x XP ring is to speed up our slayer grind IMMENSELY, we also want to get any items (the teleport and xp ring) purchased before continuing as we will not have any more slayer points to farm for this guide after these two items.
By getting both of these items ASAP we…
Ensure we are prepared for the grind ahead
Completing the "soft" slayer block by unlocking faster xp in the future
EARLY SLAYER TASK PRIORITY (with AOE)
Exodia
Allseer
Obelisk
Everything else
This means we skip ANY task that isn't Exodia, Allseer or Obelisk
If you do not have an AOE scythe, you can ignore the slayer task priority above
Without AOE, you should skip…
Ferocious (slow)
Skeleton (slow)
Broly (slow)
We skip these because of their high HP and slow kills.
Tier 5 Slayer Onward - WELCOME TO THE JUNGLE
On Top of the XP modifiers, having an AOE weapon is not "needed" but is VERY STRONGLY RECOMMENDED FOR SLAYER CONTENT in this stage of the game. Either save up some money, use your attachments and upgrade a staff/scythe or buy one. Or donate and pray to Prophet ;)
Silent night/Lovely/Oblivion Scythe's for AOE slayer kills is MASSIVE xp/hr increase
By having this, you will easily 3x/4x your xp/hour due to the AOE effects
THIS WILL SAVE YOU TENS OF HOURS
Why Jungle slayer?
All tasks are located very close to the master
Tasks can be completed quickly with AOE weapons such as Silent night/Lovely/Oblivion Scythe's
AMAZING xp, with full XP modifiers we can get over 10million xp PER KILL in this area
Jungle Slayer will be your home until you reach Tier 100 Slayer, this is because the tier 50 slayer master is a boss task only master and has poor XP/hr for tasks.
Information gathered by Cruw and looked over by others in the community. info modified to fit correctly on wiki by you stromy :P

Back To Top